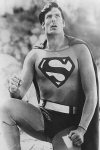 Dana Reeves died Monday at the age of 44. What a woman! Her dedication to her husband Christopher Reeves was unparalleled; she was courageous and strong. She supported and loved her husband unlike many people would have been able to do. And after she saw him through all of his treatment, their heartache, and his death, she was much too soon diagnosed therafter with lung cancer which she succumbed to on Monday night. As I said what a woman.
We all look for someone who will stay with us, be by our side in sickness or in health till death do us part. But do we really get that today? Do single people today get married for the long haul? Do people of our generation actually get married and plan to stick around for better or for worse? Or do people of our generation look at the ease of getting a divorce as an escape route that makes its all the more palatable? How did our generation change so dramatically to a generation that runs away when the chips are down?
And how does someone find a partner like Dana Reeves? She was one of a kind but I hope not one of her kind. I know I would like a partner with the characteristics she embodied, wouldn't you???